If you are missing a tooth or even several teeth, did you know that you can return to a complete smile? There are many tooth replacement solutions available for you to choose from. One such option is a dental bridge.
A dental bridge is a dental prosthesis made up of fixed dental crowns on either side of a sandwiched artificial tooth in the middle. Dental bridges are a common tooth replacement solution because they are affordable and can quickly restore your smile's appearance and function. You will look younger, your cheeks and lips will be supported, and you'll have the ability to eat and speak with ease.
Tooth-Supported Dental Bridge
A traditional dental bridge is bonded to healthy, natural teeth topped with dental crowns located on both sides of the gap. Traditional bridges are best suited for patients who have healthy remaining teeth to support their bridge.
If there are no healthy teeth located around the missing tooth to anchor the bridge in place, then you'll need a different solution, such as an implant-supported bridge.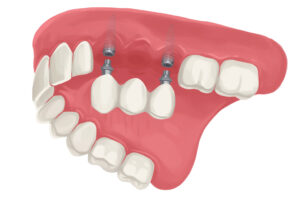 Implant-Supported Dental Bridge
For patients who are missing many teeth or who have fragile natural teeth, implant-supported bridges are a better option than a tooth-supported bridge.
A dental implant is a small titanium post that is permanently placed into the jawbone. Once the implants heal, they can be topped with the dental bridge. Implants mimic natural tooth roots and fuse with the bone to create a stable foundation for tooth restorations, including dental bridges. They are long-lasting and protect the jawbone from deterioration.
Schedule a Tooth Replacement Consultation with Our Team!
Are you ready to take the next steps on your tooth replacement journey with Sean Abidin, DDS & Vanessa Cao, DDS? We offer a variety of restorative dentistry services, including dental bridges. We'd love to help you regain a healthy, beautiful smile. Contact our Westerville dental office today to schedule your appointment!
Implant-supported bridge from Authority Dental under CC 2.0