Dental Bonding
in Westerville
---
Do you have a tooth in need of a simple fix? For example, maybe you have a slight chip or a small space between your teeth. Dental bonding is a popular option for correcting minor issues because it's a faster and more affordable procedure than say an alternative like veneers. Aside from these examples, tooth bonding can also transform the shape and size of a tooth and help restore teeth with decay. At our Westerville dental practice, we provide dental bonding as part of our restorative and cosmetic services.
Call Now
How Tooth Repair with Dental Bonding Works
---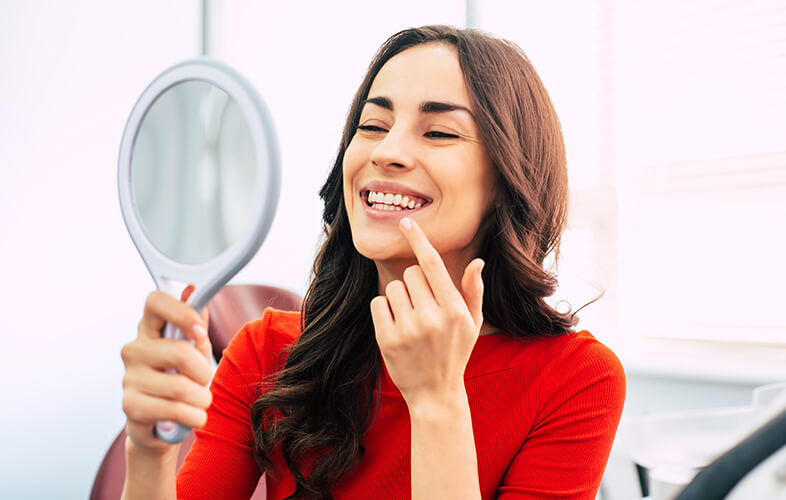 The procedure for dental bonding involves applying a tooth-colored resin to your tooth and then hardening that resin in place with a special light (this is the literal "bonding" part). The material will blend in naturally with your tooth so others won't be able to notice that you've had the treatment done. Overall, it's a quick procedure and there's no recovery downtime afterward so you can get back to your day without a problem.
Tooth Bonding FAQs
---
No, the tooth bonding procedure should not be a painful one. As we're working on the surface of your teeth, it's possible you may feel some sensitivity. If you are feeling anxious about the procedure because of possible pain, please give us a call so we can walk you through your options and ease your concerns.
Generally speaking, tooth bonding lasts for around 10 years. This number can vary depending on how well you take care of your dental health and whether or not the tooth with bonding has to bear excessive wear and tear. For example, using that tooth to bite down on hard objects like ice or a pen can shorten its lifespan.
Many insurance plans cover some of the cost of tooth bonding, especially when it's being used in restorative cases. That being said, everyone's plans and coverage are different so it's best to check with your provider about your situation. If you need additional help making a plan for covering your out-of-pocket costs when it comes to dental bonding, please let us know as we offer options like our dental membership club and third-party financing.
ASK US A QUESTION