We understand that losing your permanent teeth can feel devastating. At Sean Abidin, DDS, & Vanessa Cao, DDS, we're proud to offer a variety of tooth replacement solutions to restore your smile to full function, improve its appearance, and help you regain your confidence!
Dental Bridges
A fixed dental bridge can close the gap if you are missing a few teeth in a row. Bridges are composed of a realistic-looking artificial tooth sandwiched between neighboring dental crowns capped over natural teeth or anchored to two dental crowns attached to dental implants. Many patients find that a water flosser is a helpful gadget to keep their bridge clean!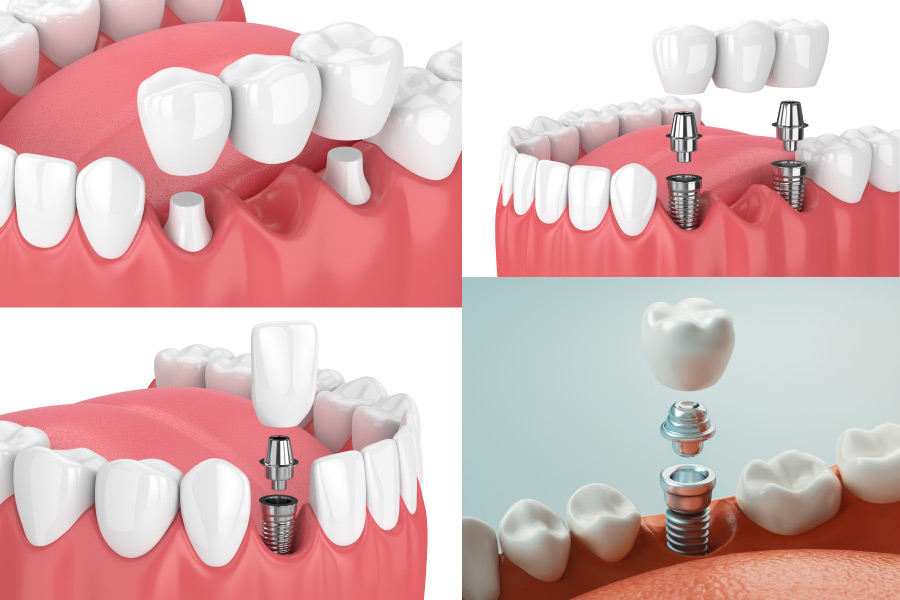 Dental Implants
If you have one or more missing or damaged teeth, dental implants are a permanent tooth replacement option that can fill the gaps in your smile. To qualify, a patient must have sufficient jawbone density and healthy gums. This is because dental implants consist of a titanium rod surgically implanted into the jawbone, then topped with a restoration after a period of healing. The rod acts as a replacement tooth root that fuses with the jawbone. The restoration can be a dental crown, bridge, or dentures. This depends on how many teeth are missing and what's ideal for your particular situation. Dental implants look, feel, and are cared for like normal teeth.
Full or Partial Dentures
For those missing many or all of their teeth, dentures can be a great tooth replacement option. They are made of an acrylic base that resembles gums with realistic artificial teeth. While partial dentures are adhered to your remaining teeth with metal clips, full dentures can be attached with dental adhesive or dental implants. Removable dentures should be removed every night before you sleep and soaked in a cleaning solution.
Affordable Tooth Replacement in Westerville, OH
To learn more about our tooth replacement options, please schedule a restorative consultation with our friendly team. We will discuss your unique situation, needs, and budget to help you determine the right solution! Contact us today.