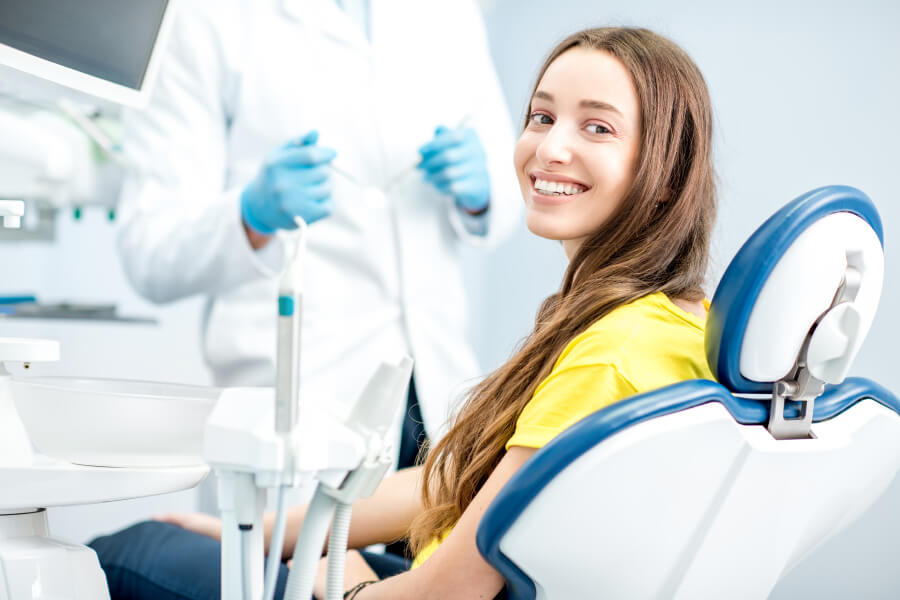 In this blog post, we reveal how often patients need professional dental cleanings. We also provide a few simple tips on how to promote superb oral health at home between cleanings.
Biannual Dental Cleanings
The American Dental Association recommends getting a professional dental cleaning and checkup at least once every six months. Patients with certain medical or dental conditions may benefit from more frequent visits. Regular checkups and cleanings allow your dental provider to prevent, identify, and treat oral health problems, such as tooth discoloration, bad breath, oral pain, tooth decay, gum disease, oral cancer, and tooth loss.
How to Maintain Healthy Teeth Between Cleanings
Eat a Balanced Diet
Incorporate a variety of whole foods that are high in fiber, vitamins, and minerals, such as vegetables, leafy greens, fresh fruits, nuts, and legumes. Consume carbohydrates and added sugar in moderation, such as candy, chips, soda, fruit juice, white bread, and crackers. Furthermore, drink plenty of water throughout the day.
Brush Your Teeth Twice a Day for Two Minutes Each Time
Gently and thoroughly brush your teeth every single day, once in the morning and once at night before bed, for two minutes each time. Be sure to brush your tongue! Additionally, replace your toothbrush or brush head frequently, about every three months and after you've been sick, so you have a clean, bacteria-free toothbrush.
Floss Every Day
It's imperative that you don't skip flossing. Flossing dislodges food particles and bacteria in between your teeth and under your gums. If not removed, bacteria will feed on these food particles and produce acidic byproducts that irritate your gums and damage your enamel, the outer layer of teeth.
Reach Out to Our Expert Team!
In conjunction with a balanced diet and daily brushing and flossing, biannual cleanings and checkups with our team will keep your mouth clean, healthy, and free of oral health problems. Do you have any questions about how to care for your teeth and gums at home? Or are you ready to schedule your next dental cleaning and checkup at our dental office in Westerville, OH? Contact Sean Abidin, DDS, & Vanessa Cao, DDS, today.