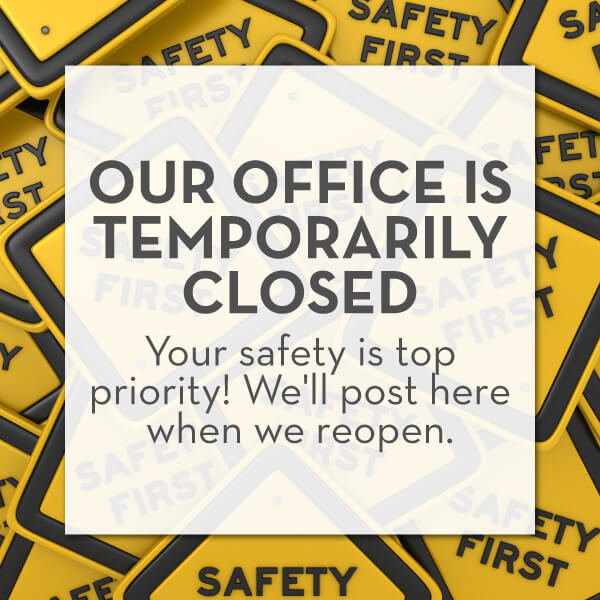 Because of the coronavirus pandemic, COVID-19, our Westerville dental office is operating under limited hours for dental emergencies only. The safety and health of our patients, our employees, and our community are our top priorities. We will let you know when we are once again able to provide our patients with the quality care and the safe environment that is a hallmark of our practice.
In this blog post, we go over five common dental emergencies so that you'll know when to call us!
Knocked-Out Adult Tooth

One of the worst-case dental emergency scenarios is to knock an adult tooth clean out of the mouth. If it happens to you or a family member, know that you should get to the dentist with your tooth ASAP. Handle the tooth only by its chewing surface and gently rinse any debris off with milk or water (but do not rub or scrub it). As you drive to our office, keep your tooth moist by holding it between your cheek and gums or storing it in milk.

Broken or Cracked Tooth

Cracks and breaks in teeth can cause pain, sensitivity, and infection. Call us so we can fix your tooth as soon as possible. If your tooth is in pieces, bring the pieces with you to our office.

Broken Filling, Crown, or Dentures

A filling or crown that is broken or lost can also lead to pain, sensitivity, infection, and difficulty eating. If your filling or restoration is damaged, call us to discuss your treatment options.

Severe Oral Pain

You should never ignore oral pain, especially if it is severe and throbbing. The pain could signify decay or infection. Call us if your pain persists after you've tried flossing, brushing, and rinsing with mouthwash.

Stuck Object That Can't Be Removed with Floss

If you have an object stuck in your teeth that you can't remove with floss, don't use something sharp to pry it out. You'll risk damaging your teeth and gums. Call us for assistance.
Coronavirus Emergency Dentist in Westerville, OH
Stay informed and take the necessary precautions to protect yourself and others from the coronavirus. If you experience a dental emergency during the coronavirus pandemic, call our office at 614-882-9828 and follow the voicemail prompts to connect to Dr. Cao's cellphone.
We thank you for your loyal patronage and regret the inconvenience our temporary closure will cause to those with scheduled appointments and plans for smile improvements. Our team looks forward to welcoming you again to our office as soon as this crisis with the coronavirus has passed.