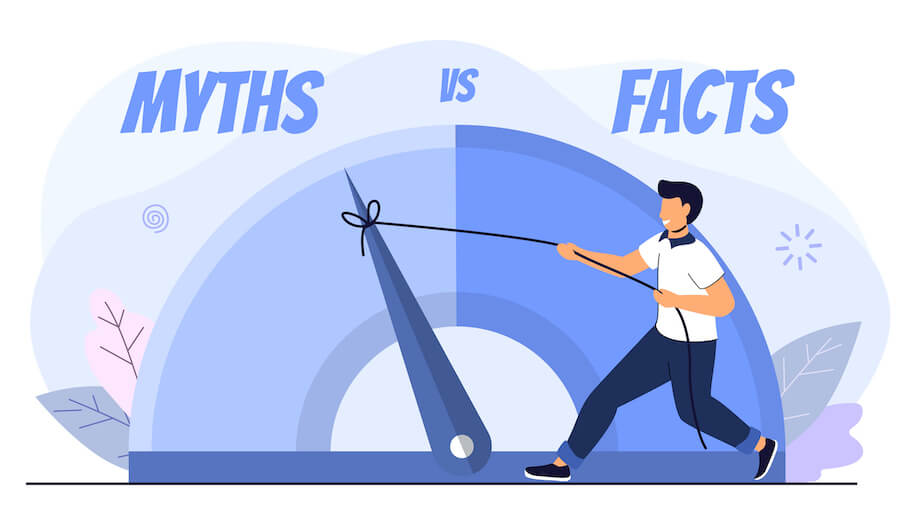 The following myth-busting information can help you better handle a dental emergency and care for your oral health!
"You Don't Need to Brush Baby Teeth Since They Fall Out"
Actually, your child's temporary baby teeth are the foundation for healthy permanent teeth. When a baby tooth is severely damaged by decay due to poor oral hygiene or accidentally knocked out, it can cause issues with the surrounding tissues and negatively affect their oral development, nutrition, and speech.
As soon as your child gets their first teeth, start brushing them twice a day with a baby toothpaste and toothbrush. Additionally, we recommend you schedule their first dental visit around their first birthday. Continue to brush their teeth twice a day until they can brush their own teeth with supervision.
"Dental Infections Will Get Better without Treatment"
This myth has dangerous consequences! Dental infections will not get better on their own. An infection in the mouth requires professional treatment, which can involve fillings for cavities, antibiotics, root canal therapy, deep cleanings, and more to preserve the health of your gums and natural teeth. Infection can cause tooth loss, spread to other tissues, and result in a deadly inflammatory response by your body called sepsis.
If you have a toothache, please call our office to learn what your next steps should be.
"You Only Need a Dentist If You Have a Toothache"
The true value in seeing a qualified dentist goes well beyond resolving current oral pain. Most common dental issues are avoidable with good preventive care at home and at the dentist. By regularly visiting our team for cleanings and checkups, we will be able to help you prevent dental disease and identify any minor issues before they develop into major problems.
Please contact Sean Abidin, DDS, and Vanessa Cao, DDS, to ask additional questions about how to prevent and handle dental injuries and dental disease, and to schedule your next appointment at our office!