Are you missing teeth? Gaps in your smile can negatively affect your quality of life in more ways than one. For example, you may be more hesitant to join in on photos with family and friends because you're embarrassed about your smile. Or maybe you've given up on eating certain foods because the spaces just make it too difficult. But as part of our Sean Abidin, DDS, & Vanessa Cao, DDS, dental family in Westerville, OH, you can enjoy a restored smile and an improved quality of life with one of our tooth replacement solutions!
One of the most popular ways to replace missing teeth is to get a dental bridge. This restorative treatment is a great option for people who are missing one tooth or even several teeth. Read on to learn the basics about dental bridges.
How Dental Bridges Work
The name "dental bridge" alone gives a pretty good clue as to how the appliance works. Made of an artificial tooth sandwiched between dental crowns, a dental bridge literally bridges the gap in your smile. The crowns are fixed on both sides of the gap via natural teeth or dental implants. A bridge is permanently cemented into your mouth, meaning you don't have to remove it when cleaning your mouth or sleeping.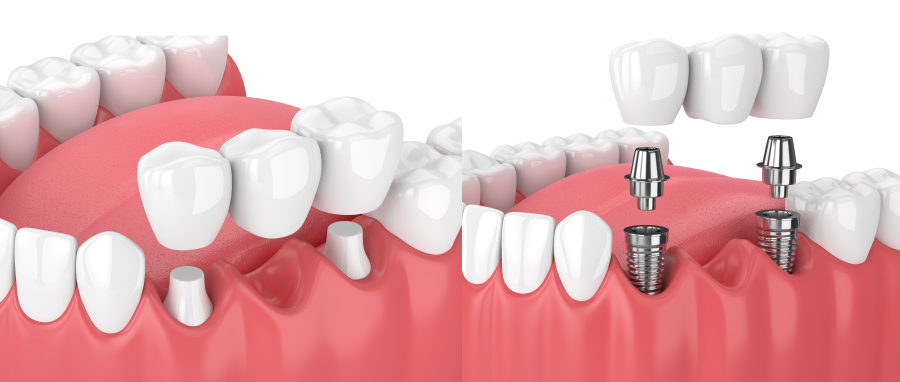 How to Get a Dental Bridge
The first step in getting a dental bridge is to schedule a consultation with Sean Abidin, DDS, and Vanessa Cao, DDS. We'll help you determine if a dental bridge is the right tooth replacement solution for you. This will be based on factors such as your oral health history, budget, and smile goals. The next steps depend on whether your treatment plan involves bonding dental crowns onto your natural teeth or if you desire a bridge supported by dental implants.
When we place your bridge, we'll check that it is a perfect fit. This will ensure your comfort and that you can speak and eat with ease. We want your new dental appliance to feel completely natural and comfortable in your mouth.
Dental Bridges in Westerville, OH
Our Westerville dental office offers several tooth replacement solutions, including dental bridges. If you think a bridge is what you need to transform your life for the better, please get in touch with our team to set up a consultation. We look forward to helping you feel confident in your smile!