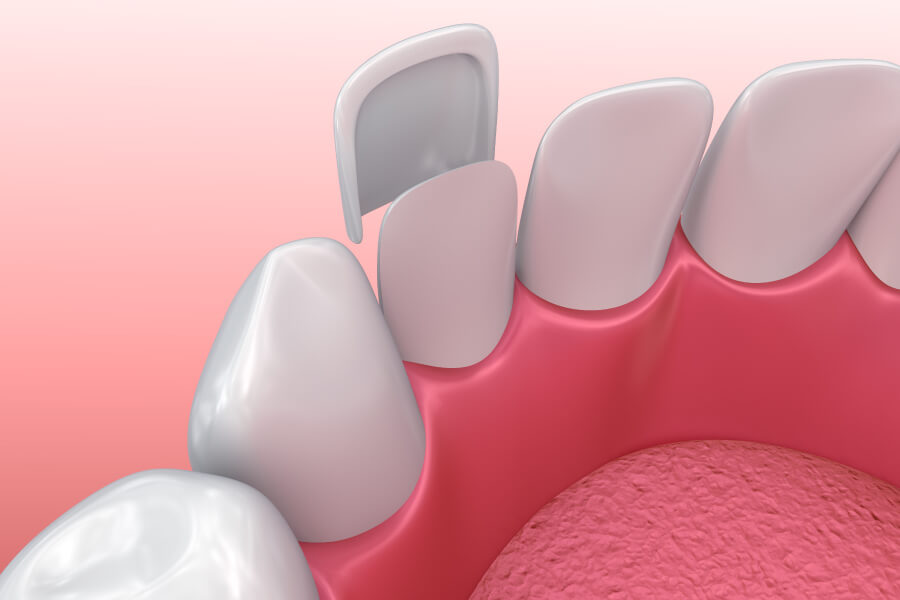 Dental veneers are thin porcelain shells that fit over the front of your teeth. They can hide issues like small cracks or stains, make your teeth more even and uniform, or completely transform your smile. Veneers are permanent due to the placement process and can't be whitened once bonded to your teeth. However, they are long-lasting and generally more stain-resistant than natural teeth.
What's the Dental Veneer Process?
Before we put veneers on, we need to shape your teeth and shave off a very thin layer of enamel. This is so your veneers sit flush against your smile and don't stick out. Veneers are considered permanent because we remove tooth enamel. We can replace veneers if they break or wear down, but you'll always need to have veneers. Once your teeth are ready, we make impressions and send them to an off-site lab. The lab makes your custom veneers and sends them back. We then make sure the shape, shade, size, and fit are perfect before bonding them to your teeth!
How Do You Care for Veneers?
With proper care, porcelain veneers can last about a decade or longer. Wear a mouthguard if you play sports or grind your teeth at night. Do not open packaging with your teeth or use tobacco products. Additionally, keep brushing, flossing, and visiting the dentist for routine cleanings. While the veneers themselves can't get cavities, your underlying natural teeth are still vulnerable to decay. Your gums can also become inflamed and infected if you do not keep your mouth clean and consume a balanced diet.
How Much Do Veneers Cost?
Veneers are one of the more expensive cosmetic treatments. The exact cost depends on factors like how many veneers you're getting and whether you need other treatments first. At your consultation, we'll give you a clear cost estimate before beginning work. Our office also offers a variety of financial options, including financing through CareCredit® and an in-house savings plan that unlocks exclusive discounts.
Dental Veneers in Westerville, OH
Veneers permanently transform a tooth's shade, size, and shape. Whether you want just a few veneers or veneers on all your front teeth, this cosmetic treatment can help you achieve your dream smile. If you have any questions or want to schedule a consultation with Dr. Abidin or Dr. Cao, please contact us today!